Escape From Planet Omega-12 
A New Animated Sci-Fi Series From Christopher "Moonlight" Cooksey and Doug Mayfield
Producers
Christopher "Moonlight" Cooksey
(
The Quantum Terror
, Ray Bradbury LIVE Forever
) and Doug Mayfield (
The Quantum Terror
/The Warning
) are proud to announce the production of their new animated sci-fi series,
ESCAPE FROM PLANET OMEGA-12
. Inspired by vintage science fiction and adult-oriented animation such as
Fire and Ice, Heavy Metal,
and
Love Death + Robots,
OMEGA-12
is looking to bring back the raw and sexy energy that used to come with pulp science fiction in a style that Cooksey calls Sci-Exploitation. It tells the story of Tera, the beautiful lone survivor of a doomed space expedition, marooned on a savage alien planet, along with her little robot assistant and a strange alien blob that has absorbed the consciousness of her murdered husband. Hunted by an unseen enemy who means to kill her, she must learn to survive in her new environment while evading ravenous monsters and deadly robots, all while uncovering the deeper mysteries of the planet she seeks to escape.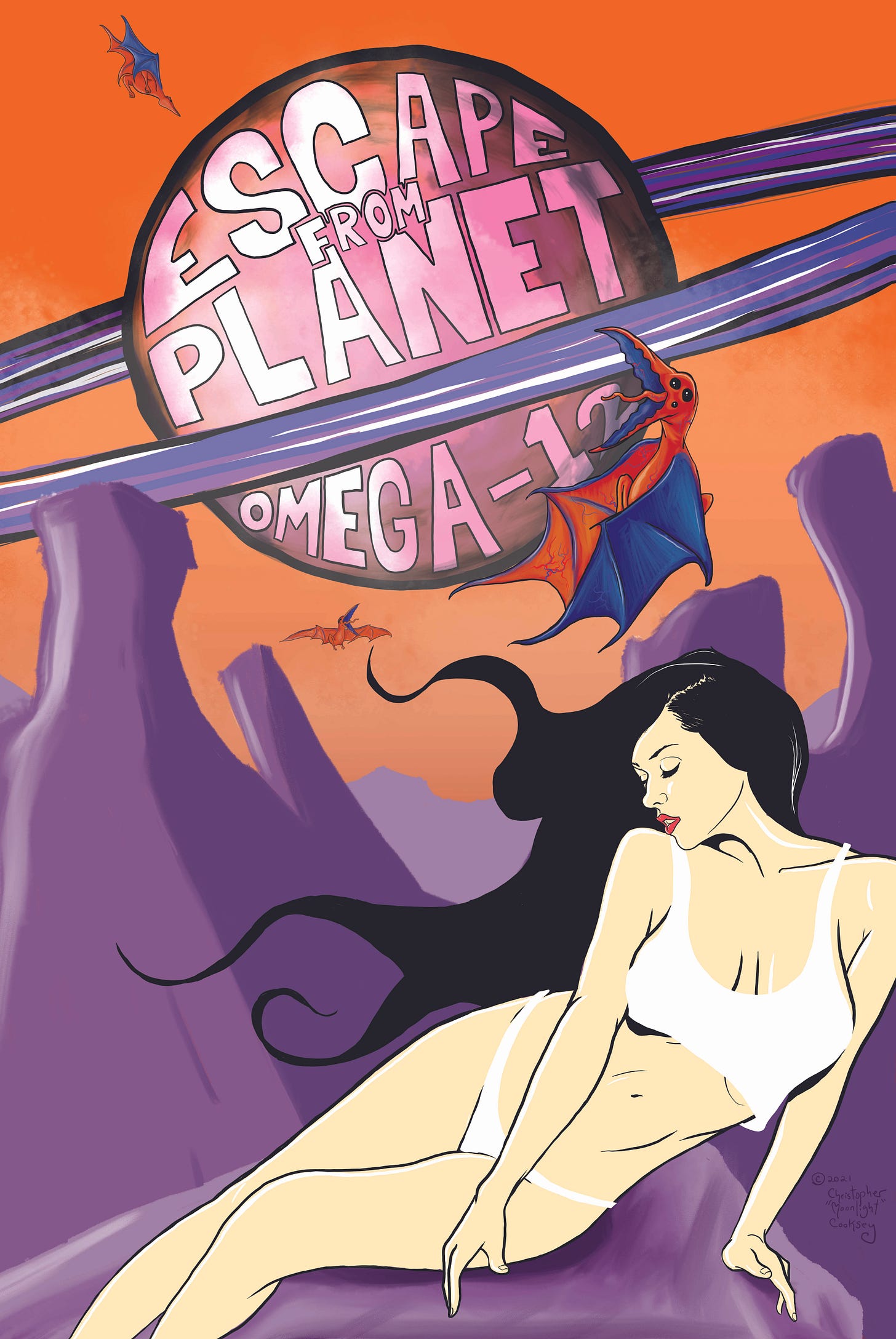 "This is really exciting for us," says Cooksey. "Rather than just being drawn or computer generated, we're using all of this new open-source and AI technology that indie filmmakers just couldn't get their hands on without the backing of a major studio, just a few years ago. The playing field is now leveled and we wanted to really make something that Hollywood wouldn't take a chance on, blending miniature sets and puppets shot in-camera, traditional hand-drawn animation but also using the latest in AI-driven motion capture, like what the programmers at Rokoko are offering, along with VTube technology and open-source 3D, to create a wholly original look. We're taking cues from the best of both Western and Easter animation but no one has ever seen anything like what we're planning before." The two producers, who also used miniatures and animation combined with live actions to make their first movie
The Quantum Terror
, are now excited to bring this unique vision to life and offer audiences an engaging, visually stunning, and thought-provoking experience with
ESCAPE FROM PLANET OMEGA-12
. Stay tuned and be the first to get exclusive behind-the-scenes looks at the first season, upcoming stellar cast announcements, as well as info on possible NFTs, comic books, and future game dev by joining us at
https://www.subscribestar.com/christophermoonlight
.
*** Christopher Cooksey is available for interviews ***